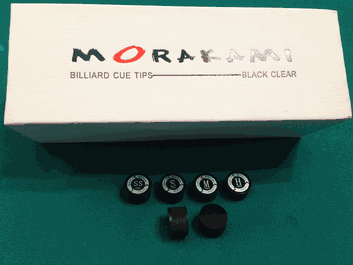 Morakami II™ Black Clear Cue Tips

Morakami II™ Cue Tips are engineered for maximum performance using the latest leather and adhesives while providing you with Chalk and Shoot™ technology.

Morakami II™ Clear Cue Tips are the leader in innovation. Morakami II™ Clear Black Cue Tips are the latest unique innovation offering you more consistent playability by creating a tip with a glue barrier between the leather of the tip and the glue to install the tip to the ferrule. Morakami II™ Cue Tips achieves this by placing a clear pad which stops glue absorption into the leather. Because of this clear pad, the glue side is incredibly flat for easier tip installation.

The benefits are obvious; in fact, they're quite clear. You'll achieve consistent and repeatable performance.



Morakami II™ Clear - The winning choice!


Available in Super Soft, Soft, Medium and Hard
---




Morakami II™ Black Cue Tips

Morakami II™ Pool Cue Tips are engineered for maximum performance using the latest leather and adhesives while providing you with Chalk and Shoot™ technology. Why pay more when you can buy the best for less at Cue Components. If your Cue Maker or repairman doesn't stock them, order here and save.

Morakami II™ Cue Tips are available in stock and ready to ship:
Super Soft (SS)
Soft (S)
Medium (M)
Hard (H)


The Morakami II™ Black Cue Tip




---
Morakami II™ Brown Cue Tips

For an exceptional alternative to Moori Tips, you have to try Morakami II™ Brown Layered tips from Japan. All Morakami II™ cue tips are engineered for maximum performance using the latest leather and adhesives while providing you with Chalk and Shoot™ technology. These are in fact, the very best alternative to Moori that are available. We have limited supplies in Soft, Medium and Quick (hard). They are priced slightly less than Moori and play as well where you'll be pleasantly surprised. They do in fact play like the old Moori!

Morakami II™ Brown Layered Tips - The Moori Alternative
---
---
Morakami II™ Black Clear Cue Tips

are engineered for maximum performance using the latest leather and adhesives while providing you with Chalk and Shoot™ technology. You can pay more and support large advertising campaigns and dealer mark-ups or you can pay less and buy the real deal for much less!

Morakami II™ Black Clear Tips - The Clear Choice!
---
---
Here are a few of the best layered cue tips available today.
Now in stock and ready to ship.
Maximus Professional Cue Tips
American Eagle Performance Brown & Black Cue Tips
American Raptor Performance Black Cue Tips
Sharp Shooter Tips
Samson V Professional Cue Tips
---
Unsolicited Testimonial
"Most buyers want to be appreciated as customers and most customers just want to be heard when a purchase doesn't go as planned. Joe heard me when my shipment was lost in transit. He then went above and beyond to rectify the situation, even though it was no fault of his own. This is a testament to a trusted seller. To my fellow buyers - come for the reasonably priced, high quality cue components and stay for the outstanding customer service".
J.C., Rolling Meadows, IL
---
"Large selection of cue tips and cue making items. Very reasonable prices for the goods offered--much lower than many other online retailers. Good seller communication and fast shipping. I would buy from Cue Components again!!!"
J.P., Sherman Oaks, CA
---
"Wide variety of high quality products available at excellent prices. Type and selection of products are usually not available at other "big box" pool & billiards suppliers. Shipping is always very prompt and packaging is good. Website has some entertaining stories if you care to spend the time. I will continue to use Cue Components for my cue repair and billiard needs".
R.A.S., Palos Verdes Estates CA
---
"I don't know how you guys stay in business but I hope that you're not planning on going anywhere anytime soon....because you guys are THE BEST!!!! Your prices are unbeatable, and the way that you conduct business/treat the customer is unparalleled! I'm telling everybody about CueComponents! Y'all are some of the "Last Of The Good Guys!"
M.S. Ontario, CA
---
Hi Joe, the moori tips arrived yesterday. WOW that was fast! Thanks for the great service. Keep up the good work with your honest prices. Many thanks.
T.J.D., Cambodia.
---


SHAFT WOOD! We are the leading suppliers of shaft wood, handle wood and coring dowels for cue building. The shaft wood you are buying today will always be at least 1 year old whether you buy squares, rounds or tapered. Our squares and rounds are well over 1 year old and our tapered shafts can be up to 4 years old depending on taper. We don't get our wood in from our supplier and then immediately sell it directly off the pallet. We're selling this years shaft wood deliveries next year. Our inventory is that deep. We do all our doweling in-house and not in the back of a pick-up truck. We are professional dealers; not fly-by-night quick buck artists looking to make a buck selling to newbie cue makers.

Whether you need 1, 100 or 1,000 we can ship today. Shaft squares, doweled or tapered, we have them all and even down to almost final cuts. Our shaft wood is cut to high specifications and you'll find our shafts to be the most stable in the industry due to careful cutting, drying and ongoing care in our shop. Take a look at our vast shaft wood, handle wood as well as coring dowels.

Check our two new products at the bottom of the page.

Shaft wood is in stock and we have the most and best available. We bring in 20,000++ shafts per year to sell to our clientele each and every year. As such we can pass the quality and savings on to you. And due to our large inventory of 10,000+ tapered shafts we can offer aged shaft wood as well. If you require shafts that have been hanging around (literally), we have them up to 4 and 5 years old. Check out all our shaft offerings here.

Pictured above to your left is the finest set of informational cue building DVD's available anywhere and at any price! Everything is included. You can check them out here: Joe Barringer Cue Building DVD's.

A recent unsolicited testimonial...
"The merchandise is excellent. Their web site is one of the best out there. It's easy to use and the pictures of the merchandise are perfect. Great wood selection. You can even choose the exact piece of wood you want. They carry their own line of sealer and finish that is the best I have used. The delivery time is slower than other companies that I have bought from. The products are worth the wait. Best to allow a couple of weeks lead time when ordering". William Porter, LA

William... we appreciate the comments! Our lead time is usually better but we were extremely busy at the time. We usually ship within 24 to 72 hours of receiving an order. Thank you.
---
Shop Tour: Our Shop Tour page is now complete. Take a look at all the different equipment which we use daily to build quality, precision Cue Components. You may even get some ideas of your own.

All products listed are available for immediate delivery including items without photos.

We are Cue Components of New Smyrna Beach, Florida. We're a small family run business with a large inventory offering friendly and personal service. You're not a number but a name with us as we endeavor to service your cue building needs. Advice is only a phone call or email away. We are located just 15 minutes south of Daytona Beach. Additionally, we treat all our component parts with Our Wood Stabilization to ensure the same stability in your area. As such all our products are incredibly stable and crafted by perfectionists.


---
---
You know, in today's world with all the do-gooders trying to satisfy the 'minute minority' for every belief and who want to take the 'Pledge of Allegiance' out of our schools, who want to take, 'In God We Trust' off our money and who just want to change hundreds of years of America, I have this to say, deal with it or leave as it's your right. So with that in mind....

I pledge allegiance to the flag of the United States of America, and to the republic, for which it stands, one nation, under God, indivisible, with liberty and justice for all.
---
---
Morakami II™
Cue Tips - Black



Regular Price: $35.00
Sale: $13.99, 6/$77.94, 12/$143.88

Morakami II™
Black Clear
Cue Tips



Regular Price: $40.00
Sale: $14.99, 6/$83.94, 12/$155.88

Morakami II™
Cue Tips - Brown



Regular Price: $25.00
Sale: $11.99, 6/$66.00, 12/$126.00

Thomas Cue Tips
Laminated Cue Tips



Regular Price: $20.00
Sale: $5.99, 5/$28.75, 10/$55.00, 25/$125.00

Maximus Professional
Cue Tips



Regular Price: $22.00
Sale: $3.50

Morakami™
Performance Chalk
Blue & Blonde



Regular Price: $9.95
Sale: $6.99, 3/$19.50, 10/$59.99, 48/$264.00

American Eagle
Pool Cue Tips



Regular Price: $25.00
Sale: $9.95, 12/$111.00, 24/$204.00

American Raptor
Cue Tips
Black & Brown



Regular Price: $19.95
Sale: $4.25, 10/$35.00

Morakami
Gator Shaper™ Tip Tool



Regular Price: $44.95
Sale: $14.95, 10/$129.50, 25/$298.75

Kamui Cue Tips Anyone?



Regular Price: $25.00
Sale: $11.00

Tiger Paw
Shaper & Scuffer



Regular Price: $39.95
Sale: $14.95, 10/$119.50
Copyright &copy 2003-2023 Cue Components